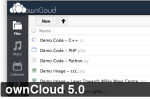 Today we released ownCloud 5!
I do not want to repeat what is already written in the Announcement, but I like to share some other points with you.
Frank blogged about this release not from a technical point of view, but in terms of a Vision, the greater idea behind ownCloud as part of the Internet as it was designed. In times when centralized solutions become more and more popular again and states fall back more and more into dark ages again with expanding surveillance ignoring more or less active their constitution (USA, Germany, Hungary are just examples) the Internet with decentralized actors is more important than before. Big hubs like Facebook or Google are easy to control, easy to manipulate. Read Frank's blog ownCloud 5 released: a vision realized, a vision expanded
The Reader is dead, long live the reader! In ownCloud 5 a News Reader is available. Update: @Cosenal, the app's developer, blogged more details about the News Reader app. />/> What actually was my main focus was improving the LDAP backend in ownCloud 5. There we have great new things like Support for multiple Bases, even multiple servers, customizable server side search, support for backup servers. Check out the backend and see the LDAP documentation to see how to configure the shiny new stuff. Generall we do have fancy ownCloud display names, which are also made use of by the LDAP backend. At least there are ownCloud Release Parties in Stuttgart and Berlin, both Germany, both on Friday! Check the links for details and drop by!